Established in 1963, Campground Owners of New York, Inc. (CONY) is a for-profit trade association dedicated to the promotion, growth, improvement, and development of independently owned campgrounds in New York State.
Two full-time staff persons manage the day-to-day operations of the association. The board of directors is comprised of campground owners or managers representing designated regions across the entire state, plus an executive committee of campground operators.
Office location and correspondence:
Campground Owners of New York
1 Grove St., Suite 200, Pittsford, NY 14534
info@campnewyork.com, 585-586-4360
Board of Directors (2021-2022)
Chairman:
Scott Sherwood
Spruce Row Campground & RV Park
Ithaca, NY
sprucerow1@gmail.com
Executive Committee Chair
3rd Vice Chair:
Rosemary Celelli
Nickerson Park Campground
Gilboa, NY
rcelelli@gmail.com
Public Affairs Committee Chair
Immediate Past Chair:
Gregg Nicholls
Lake Bluff Campground
Wolcott, NY
camplbc425@gmail.com
Executive Committee Member
Chautauqua-Allegheny:
John Tinelli
Triple R Camping Resort & Trailer Sales
Franklinville, NY
johna@triplercamp.com
Counties: Allegany, Cattaraugus, Chautauqua.
Finger Lakes:
Rick Payton
The Ridge Campground
Mt. Morris, NY
camp@theridgecampground.com

Counties: Cayuga, Chemung, Cortland, Livingston, Monroe, Onondaga, Ontario, Schuyler, Seneca, Steuben, Tioga, Tompkins, Wayne, Yates.
Central New York:
Louise Hartshorn
Lebanon Reservoir Campground
Hamilton, NY
louise@lebanoncampground.com
Counties: Broome, Chenango, southern Herkimer, Madison, Oneida, Montgomery, Otsego, Schoharie.
1000 Islands-Seaway/Eastern Lake Ontario:
Pam Bonnice
Paradise Cove Campground
Durhamville, NY
paradisecovecamp@aol.com
Counties: Jefferson, Oswego, St. Lawrence (coastline).
The Adirondacks:
Kristal Fletcher
Pine Ridge Park Campsite
Constable, NY
kfletch8313@gmail.com
Counties: Clinton, Essex, Franklin, Hamilton, Lewis, Warren, northern Herkimer, southern St. Lawrence.

Capital-Saratoga:
Mandy Duncan
Lee's Park Campground
Saratoga Springs, NY
info@leespark.com
Counties: Albany, Rensselaer, Saratoga, Schenectady, Washington
The Catskills:
Brian Ellsworth
Rip Van Winkle Campgrounds
Saugerties, NY
brian@rvwcg.com
Counties: Delaware, Greene, Sullivan, Ulster.
Hudson Valley/Long Island:
Jennifer Ellsworth
Rip Van Winkle Campgrounds
Saugerties, NY
jensconyemail@gmail.com
Counties: Columbia, Dutchess, Orange, Putnam, Rockland, Westchester, Suffolk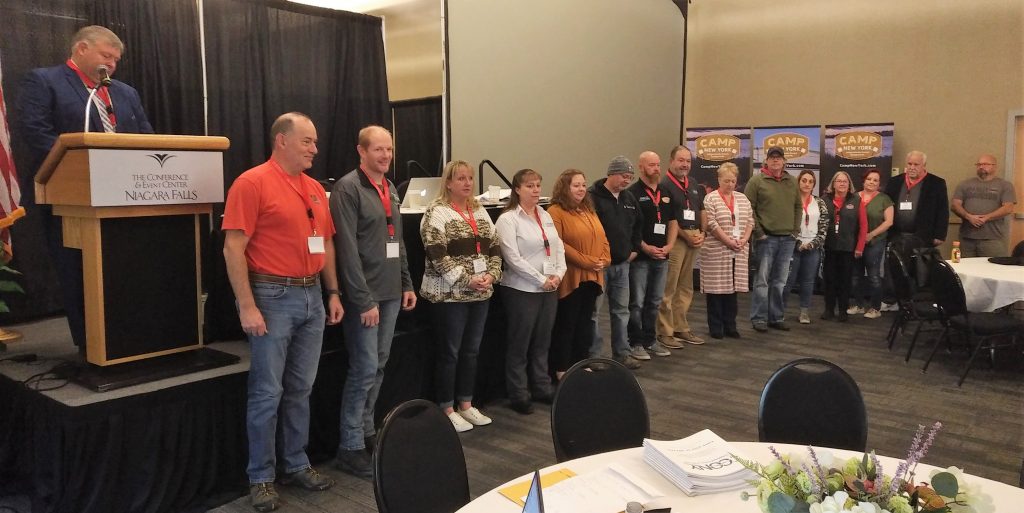 CONY Board Presidents (1964-2010)/Board Chairpersons (2010 and ongoing)
1964 to 1967
Merrill R. Bull
Arrowhead Camping Area
Delevan, NY
1968 to 1969
Robert LaPoint
Chedmardo Campsite
Pulaski, NY
1970
Frank Brundage
Hickory Hill Campground
Bath, NY
1971 to 1972
Arthur Bedell
River Road Campground
Corinth, NY
1973 to 1974
Robert D. Kunzman
Pine Valley Campground
Endicott, NY
1975 to 1976
Harry Wood, Jr.
Miller Hollow Campground
Roscoe, NY
1977 to 1978
Roger C. Anderson
Camp Chautauqua
Stow, NY
1979 to 1981
Olga "Ollie" Mizerak
Cooperstown Shadow Brook Campground
Cooperstown, NY
1982 to 1983
Robert London
Skyway Camping Resort
Greenfield Park, NY
1984 to 1986
Edwin Lighthall
Yogi Bear's Jellystone Park
at Mexico
Mexico, NY
1987 to 1988
Albert G. Kaufman
Upper Delaware Campground
Callicoon, NY
1989 to 1990
Edgar Hollwedel
Lei-Ti Campground
Batavia, NY
1990 to 1992
Andy Joehl
Indian Ridge Campground
Catskill, NY
1992 to 1994
Ford Gilbert "Gil" Paddock
Deer River Campsite
1994 to 1995
Barbara Lighthall
Yogi Bear's Jellystone Park at Mexico
1995 to 1998
Ford Gilbert "Gil" Paddock
Deer River Campsite
Malone, NY
1998 to 2001
Mark Anderson
Camp Chautauqua
Stow, NY
2001 to 2007
Janine Paddock
Deer River Campsite
Malone, NY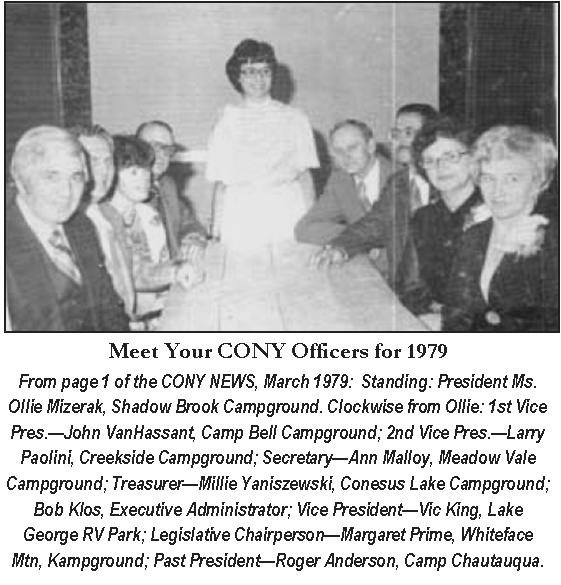 2007 to 2011
Scott Sherwood
Spruce Row Campground & RV Park
Ithaca, NY
2011 to 2014
Michael Papp
West Canada Creek Campsites
Poland, NY
2014 to 2018
Gregg Nicholls
Lake Bluff Campground
Wolcott, NY
2018 to Present
Scott Sherwood
Spruce Row Campground & RV Park
Ithaca, NY
CONY Executive Administrators/Presidents & CEOs
1975 to 2007
Robert C. Klos, Sr.
Executive Administrator
2006 to Present
Donald G. Bennett, Jr.
President & CEO