CONY members and promotional partners use this page to access information and enrollment forms for CONY-based programs such as the annual printed directory, website banner ads, newsletter ads, brochure distribution, etc., as well as cooperative advertising programs provided by outside vendors. For questions about all marketing and advertising related programs, contact CONY at info@campnewyork.com, or 585-586-4360, ext 3.
CONY Advertising Programs
Print Advertising in the CAMP NEW YORK Magazine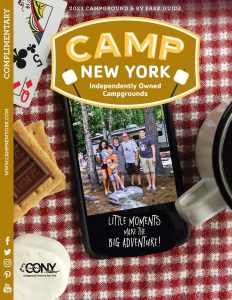 The CAMP NEW YORK magazine is published annually and distributed via RV/travel shows, highway information centers, RV centers, and other public points of contact, and also via direct mail to fulfill direct requests. We offer display advertising rates for CONY members, as well as non-members (except direct promotion for other accommodations like hotels/B&Bs and non-member campgrounds).
2024 Rates & Magazine Insertion Order coming soon

CONY Brochure Distribution Program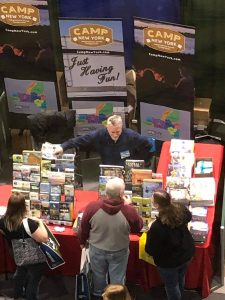 To ensure maximum exposure for for our campgrounds and allied vendors, CONY distributes your brochures in a combined shows/mail fulfillment program. Brochures are displayed in the CONY booth at all travel & RV shows we attend. The remaining brochures are direct mailed with the CONY Directory to consumers requesting NY camping info via the CONY website and our advertising efforts.
In previous years, show destinations have included a mix of drive markets such as New England (Boston, Springfield, Hartford), New York (Hamburg, Suffern, Syracuse), New Jersey (Edison), Ohio (Cleveland, Columbus), Pennsylvania (Philadelphia, York, Pittsburgh, Erie, Hershey), Canada (Toronto, Hamilton, Ottawa, Montreal, Quebec City), and snowbird destinations such as Florida.  CONY works to attend a minimum of approximately 10-12 shows annually.
CONY members only (campgrounds and vendors):
Click for 2023 Brochure Distribution Enrollment Form
Non-CONY participants: In previous years, CONY has offered a modified shows-only program for destinations and attractions and other businesses in the tourism industry.* If a program is offered in 2023 it will be linked on this page.
*Brochure distribution not offered for literature specifically promoting hotel/B&B accommodations or non-member campgrounds.
CONY Print Newsletter Advertising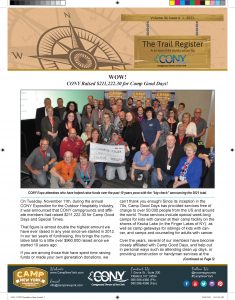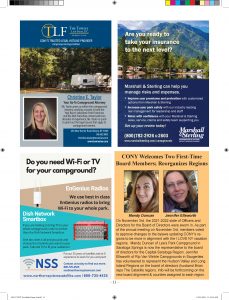 The newsletter for CONY members and affiliates is published 4 times per year. the distribution is approximately 300 per issue. Get your full color message in front of campground operators who might need your services or products. Rates for CONY members and non-members. Flyer insertion rates also available.
CONY Digital Advertising



CONY offers options for digital advertising in the following:
CampNewYork.com (this website). Ad appears in rotation on the following pages: Home, Hot Deals, Job Postings, Blog, Quick Link Categories (campground or vendor), Directory Categories - RV sites, Tent Sites, Cabins, Glamping, Campground, Events , Information Request, News Releases.
CONY Consumer E-Newsletter: emailed monthly to subscribers.
CONY Member E-Newsletter: emailed at least 1x/month to CONY campground members and affiliated vendor members.
Facebook Post/Share: We'll work with you to craft targeted messages on our FB feed to our followers.
Cooperative Advertising Programs
CONY members and businesses that partner with CONY are invited to take advantage of these special cooperative advertising programs we've negotiated. We've previously partnered with Advance Media New York and the New York Press Service for digital and print co-op buy in opportunities. New opportunities will be posted here when they become available.