CONY members and promotional partners use this page to access information and enrollment forms for CONY-based programs such as the annual printed directory, website banner ads, newsletter ads, brochure distribution, etc., as well as cooperative advertising programs provided by outside vendors. For questions about all marketing and advertising related programs, contact CONY at info@campnewyork.com, or 585-586-4360, ext 3.
CONY Advertising Programs
Print Advertising in the 2022 Camp New York Magazine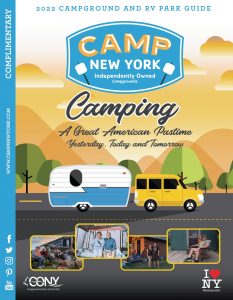 The CAMP NEW YORK magazine is published annually and distributed via RV/travel shows, highway information centers, RV centers, and other public points of contact, and also via direct mail to fulfill direct requests. We offer display advertising rates for CONY members, as well as non-members (except other accommodations and non-member campgrounds).
CONY Brochure Distribution Program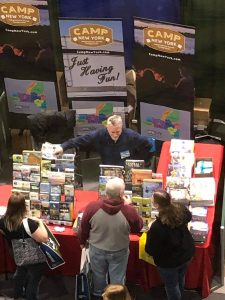 To ensure maximum exposure for for our campgrounds, CONY distributes your brochures in a combined shows/mail fulfillment program. Brochures are displayed in the CONY booth at all travel & RV shows we attend. The remaining brochures are direct mailed with the CONY Directory to consumers requesting NY camping info via the CONY website and our advertising efforts.
In previous years, show destinations have included a mix of drive markets such as New England (Boston, Springfield, Hartford), New York (Hamburg, Suffern, Syracuse), New Jersey (Edison), Ohio (Cleveland, Columbus), Pennsylvania (Philadelphia, York, Pittsburgh, Erie), Canada (Toronto, Hamilton, Ottawa, Montreal, Quebec City), and snowbird destinations such as Florida.  CONY works to attend a minimum of approximately 10-12 shows annually.
CONY members (campgrounds and vendors) may access rates and forms in "Member-to-Member Deals." Campgrounds must be enrolled as CONY members to participate. MEMBER LOGIN
Others: CONY offers a modified shows-only program for destinations and attractions and other businesses that are not other accommodations or non-member campgrounds.
Non-Member 2022 rates and forms TBA.
Cooperative Advertising Programs
CONY members and businesses that partner with CONY are invited to take advantage of these special cooperative advertising programs we've negotiated.
Digital Marketing with Advance Media New York


CONY has partnered with Advance Media NY, a leading media agency and publishers of NYup.com, to create targeted digital campaigns for our members/partners.
Reach campers in NY/MA/PA/OH/NJ
Advertise for up to 5 months (Annually March-July), signaling campers to make their plans to camp and explore.
Reports on campaigns provided to you monthly
Co-op programs start at just $250 per month, per market, with over 31,250 impressions (ads shown) per month.
Social media display ads, plus options to turn your organic Facebook posts into digital ad displays.
Be seen on NYup.com, Cleveland.com, PennLive.com, NJ.com, MassLive.com
Enroll Today:  2021_CONY_AMNY_Digital_Program_Form
Newspaper Advertising with the New York Press Service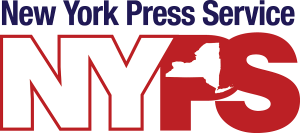 CONY has partnered with the New York Press Service to create and place regional and statewide newspaper advertising for its members/partners.
Take advantage of up to 40% off for line ads, business card size ads, or double business card size ads in print publications in your own region, or across the state.
The NYPS arranges advertising in two networks, which combined reach between 5 and 6 million households with their circulation.

The New York Press Shopper Network
Free Community Papers of New York.

Program open Annually March-July.
Expand your reach: Your display ad, that you might typically put in your local paper only, can now go region-wide, statewide, or in other select regions of your choice, at a budget-friendly rate.
Advertising can start as low as $70 for a 25 word line ad (discounted off the listed rate of $99) running for one week in a targeted region, with approx. 40 newspapers and 250,000 circulation. Or, be seen across the whole state with a business card ad for only $1,300 for one week (30% off the listed rate of $1,869), in 300+ newspapers and 2.4+ million circulation.
Take more weeks, get more discounts.
As a CONY marketing committee member pointed out, "a nice choice for further advertising which would reach a large area of more "local" people...the first thing that came to mind was campgrounds that have certain weeks that they usually have medium to low occupancy, this would be a great way to get out there about a special or an event that is going to take place on a specific week. It would allow an advertisement for a more specific time/event instead of just a generic advertisement of the campground."
MORE INFO ABOUT: The New York Press Shopper Network
MORE INFO ABOUT: Free Community Papers of New York
ENROLL TODAY:  2021_CONY_Print_Coop_Enroll_Form
Other Advertising/Marketing Programs

CONY members, log in to see member-to-member deals and programs available directly to you. All other partners/interested parties, contact cony at info@campnewyork.com or (585) 586-4360, ext 3 for program info and enrollment details. Other programs available include:
Banner advertising on this website. All inquiries welcome.
Banner advertising on CONY e-news blasts to members and consumers. All inquiries welcome.
Display advertising in the CONY member newsletter (print version). All inquiries welcome.
Brochure racking programs with Brand Connect Innovations, Inc. (BCI) and Destinations of New York State (DONYS). CONY members only.
Buy 2 Camping Nights, Get 1 Night Free certificate program with participating RV dealers. CONY members only.